R.E.A.C.T. is hosting Continuing Education for the Autism Documentary SPELLERS: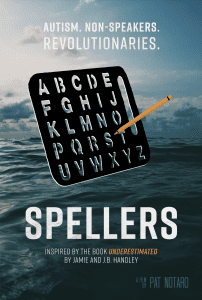 It's time to give them a voice.
SPELLERS just won Best Documentary and Donor's Choice Award at it's premier at the Phoenix Film Festival and we believe this film is going to change the way the world perceives non-speaking individuals with autism which will lead practitioners, educators, and even families to re-evaluate expectations and therapeutic approaches of this complex, multifaceted disorder.
The documentary SPELLERS pushes us to dig deeper, reflect on our own biases, and develop new and appropriate therapeutic approaches that best serve non-speaking individuals with autism and apraxia. It shows us that "assuming competence" leads to better outcomes and breakthroughs.
REACT is encouraging providers and educators to watch the film SPELLERS, and so we are hosting a 2.5 AMA PRA Category 1 Credits™ course for all SPELLERS viewers.
CLICK HERE to learn more about SPELLERS and how you can watch and get continuing education credits.
Autism On The Rise
For the last three decades we have seen a drastic increase in neurodevelopmental disorders and chronic disease in children. According to the Centers for Disease Control and Prevention autism has risen from 1 in every 10,000 to 1 in 36 children. Boys are 4 times more likely to have autism with a ratio of 4.2  to 1. The CDC also finds that approximately seventeen percent (17%) of American children now have a developmental disability. That's 1 in 6 American children have a diagnosis of autism, ADHD, cerebral palsy, or other developmental disability.
Autoimmune Disease
Autoimmune disease has also skyrocketed, especially in our children.  Research by scientists at the National Institutes of Health report that over the course of 25 years, autoimmune diseases have risen by 50% and that adolescents are acquiring autoimmune problems at twice the rate of adults.
What is happening to our children?
We have many clues that environmental toxins could be the culprit. From heavy metals, to plastics, to chemicals and pesticides, to wireless radiation, to pharmaceuticals—our children are being exposed to more toxins than ever.
It's time to find answers and stop the epidemic of chronic disease in our children. We desperately need more research to understand the root causes of this drastic rise in neurodevelopmental disorders and chronic disease in our children. REACT, Inc. believes every child should have access to effective treatment(s), yet many families cannot find nor afford treatments that give their child the best chance at successful outcomes.
There is hope for a better future!
We need your help. We need answers! It's time to discover what is causing our youth to be so sick. The keys to healing our children and unlocking the mysteries of the root causes are not out of reach. Together, we can support the research and support families. There is hope for a better tomorrow!
Support
Please consider a one-time or monthly donation and help bring hope for a healthier tomorrow.
REACT, Inc. is a 501(c)(3) non-profit organization
REACT, INC. mission:
The mission of Research and Education for Autistic Children's Treatment Inc (REACT, Inc), a non-profit 501(c)(3), is to increase autism awareness, fund individual and family treatments, provide education, fund and support research, and help develop treatment protocols for autism and other neurological disorders, developmental disorders, and chronic illnesses.